In recent years, there has been a growing interest in ceramic tiles as a floor covering for the courtyard. Giving a luxurious effect, it has become a product of choice.
On the balcony, around in-ground pools, under the dining table or on the porch, it can be seen everywhere. Even if the popularity is relatively recent, it is not a new product. According to Marco Moretti, consultant at Déco Surfaces: "Ceramics has been installed in the backyards for a long time now. They do not differ much from those seen inside the houses. However, it is necessary to choose a ceramic with suitable characteristics for outdoor installation."
Elegant and tough
Winter ready
Indeed, not all ceramics available on the market can be suitable for the yard. In North America, we are exposed to winter. How can this coating be made to resist frost and thawing? First, you have to choose it in porcelain. But not just any one: "It must have a degree of water absorption of less than 0.5. Thus, the material can survive the weather. The effect of freezing and thawing cannot crack it." Also, it must have a thickness of 20 mm, which is about twice as thick as the usual ceramic.
Adaptable on all surfaces
"Exterior porcelain is installed more or less in the same way as the one found in our homes. The base that will host it is important: the ground must be straight and firm," says the specialist. It can be glued to concrete or placed on a previously levelled gravel surface. Even sloping land can be embellished with this product, for example a parking lot. However, it is recommended to glue the ceramic when there are inclinations to prevent it from moving over time. "It can be installed in several places, but plywood is not recommended," he says.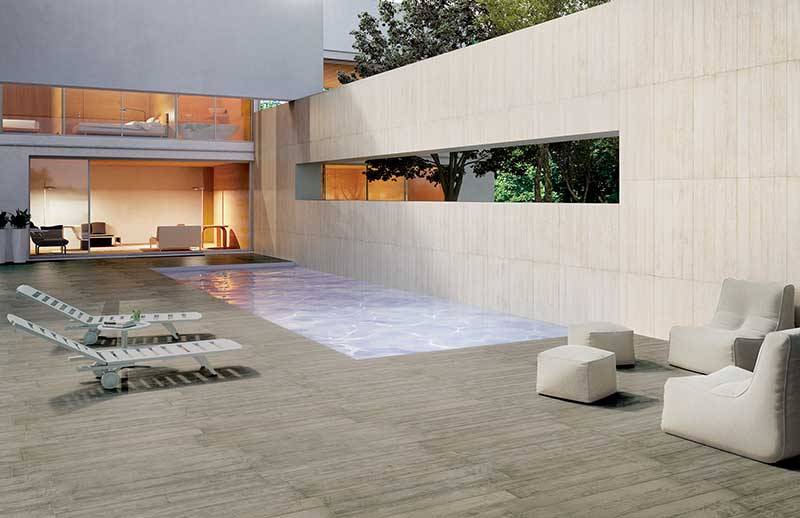 A refined look
Many homeowners opt for ceramics when they want to hide damaged concrete surfaces. This avoids the need for demolition work and is a quick solution. Others choose it because it offers a chic and luxurious look, which does not go unnoticed: "People are increasingly keen to extend the living space towards the courtyard. It is good to continue the interior look of the house with similar porcelain. It creates a visual effect of more space, more continuity." The most popular sizes are 24 x 24 inches. Neutral colours are the best sellers: "Greige, grey and earth tones are popular. In addition, texture is important: there must be a small non-slip side to avoid falls. Gloss porcelain is not recommended for exterior floors." The trend is a classic one. If in our properties, it is seen to position the ceramic in the shape of herringbone or to opt for coloured or patterned models; this is not the case in the courtyard. Sobriety is the key!
Installation directives and maintenance
Beware of the sun
If there is one thing that differs from a ceramic installation indoors compared to outdoors, it is the presence of the elements of nature. A sunny day is not the best time to get to work. On the contrary! "The sun is an enemy: you have to wait until it sets so as not to alter the tile mortar. Rays can affect the durability of the product," says Mr. Moretti. Moreover, the cement-glue must have a different composition from that used for ceramics installed in houses: "It must be of a higher level. It is a mixture of cement and liquid polymer. The latter creates an elasticity that absorbs shocks rather than weakening the material. This causes cracks. This tile mortar increases resistance. It is more expensive, but it is essential. This is the most common error seen in people who do the installation themselves."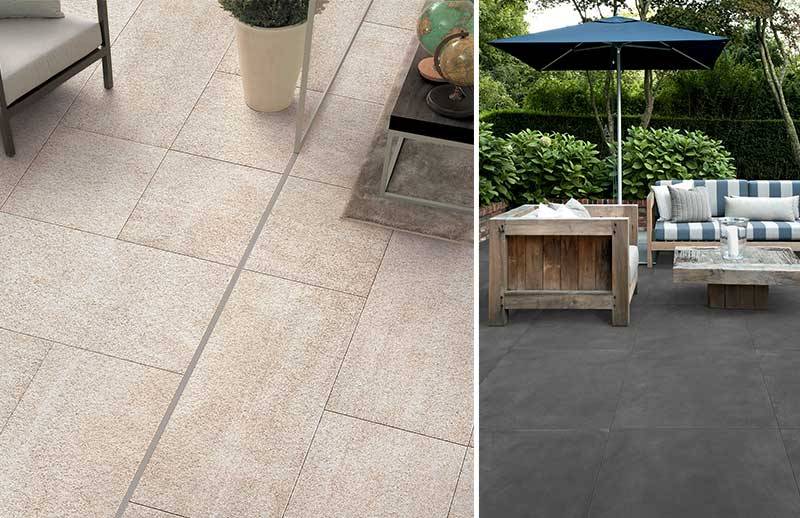 Easier than you think
Many will be surprised to learn that it is not necessary to use soap to clean porcelain, no matter where it is installed. Maintaining the exterior ceramic is therefore child's play: all you have to do is wipe it with a damp cloth or mop to make it sparkle. To disinfect the surface thoroughly, it is possible to add a few mL of white vinegar to the water. "Washing with soap ends up leaving residues and creating gloom. That's why it's not recommended." believes the consultant at Déco Surfaces.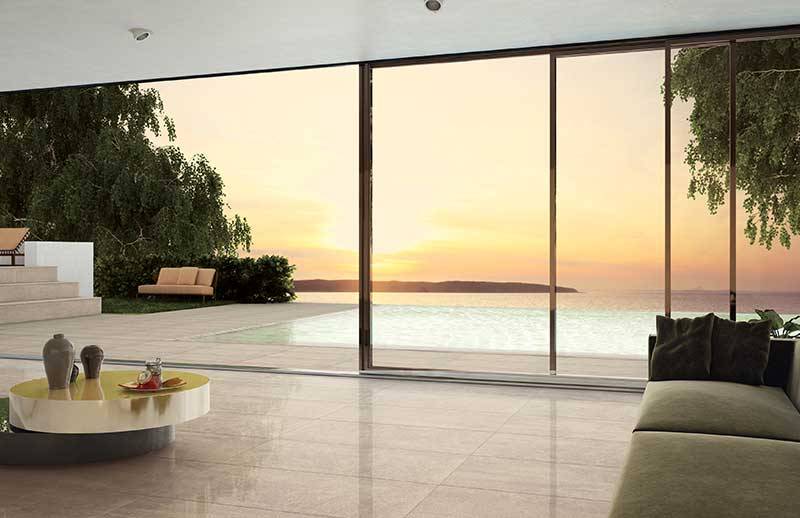 One of the trends is to use the same ceramic inside and out, which gives a sense of grandeur.
A question remains: is it an affordable product? Absolutely! Just like the most common ceramics, there are different ranges of exterior porcelain to suit all budgets. If you are thinking of refreshing your outdoor space with this product, stop by the store and talk to one of our experts.